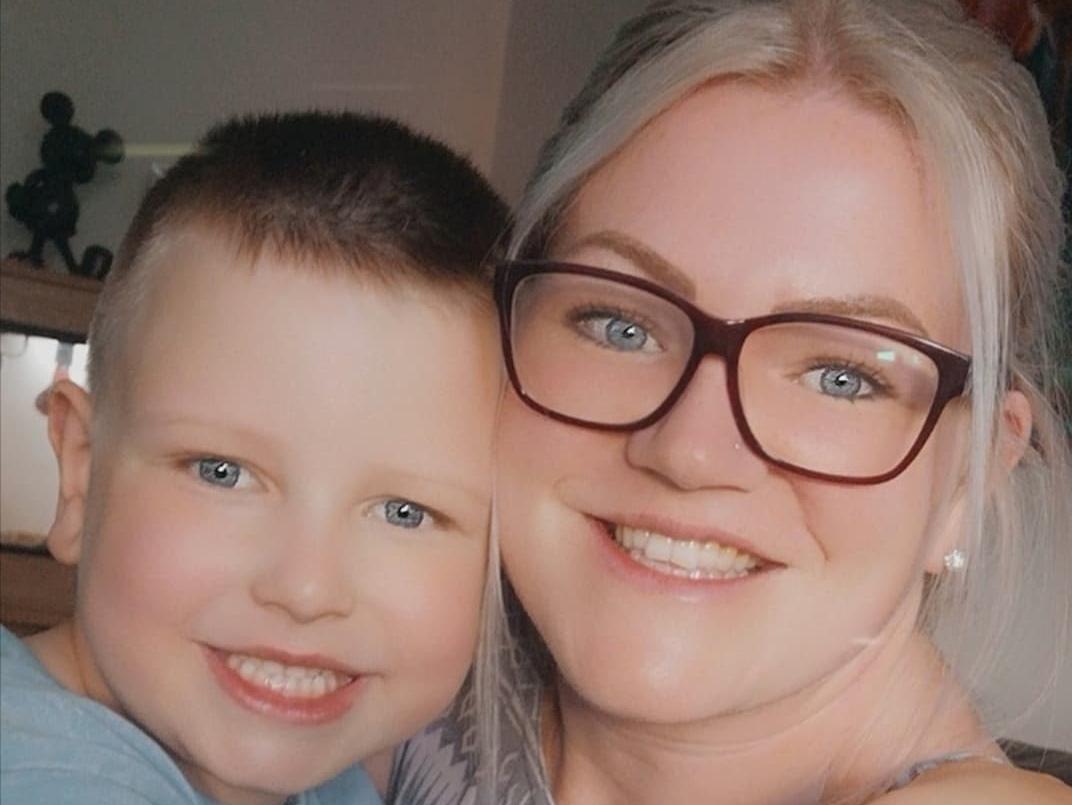 Emma Doherty made the decision to stay indoors with five-year-old son Bobby Baldwin in March, a week before lockdown measures were imposed by the Prime Minister.
But while businesses and schools have since reopened and other vulnerable people have left their homes, the mother and son mostly remain indoors in Worsley Mesnes.
Emma believes that contracting coronavirus would be fatal for Bobby, as he has a terminal heart condition, only one working lung with reduced capacity, cerebral palsy and other health issues.
Bobby Baldwin with mum Emma Doherty
She said: "For the first three months I was absolutely petrified. I genuinely thought I wouldn't get through it.
"I didn't order anything, even food. I still sanitise my shopping now. I was scared of getting shopping delivered. My mum does it and I would sanitise all the shopping and mop the floor afterwards."
It has been a difficult time for Emma, 33, who describes herself as "very family orientated", but Bobby settled into shielding very easily and remains as healthy as he can be.
She said: "He's doing really well because he is shielding, so hasn't even had coughs or colds or even tonsillitis, which had him in hospital for 12 weeks once. I think when we go back into the world, I'm expecting quite a few illnesses.
"He's quite steady now and adapted to shielding really well, because that's him anyway, he's not great at school.
"He has been quite well for the past six months, probably the most well he has been."
Emma decided to start shielding in March, with support from doctors at Alder Hey Children's Hospital in Liverpool, and Bobby stopped going to classes at St Jude's Catholic Primary School.
She later received a letter from the Government to say he should shield as he was in the most critical category, though this advice has since been lifted.
Mother and son have been spending all their time together, even celebrating Bobby's birthday without visitors going into their home.
Emma said: "His birthday was in the middle of the big lockdown and when someone dropped off a card or present, he wouldn't touch it and said it needed cleaning."
Relatives and friends have been in their garden while Emma and Bobby stayed indoors and saw them through the window.
Sadly, Bobby's dad John Baldwin died recently, just hours after seeing his son from the gate.
Emma and Bobby have started to leave their house to go for quiet evening walks together, but have still not been into any shops or houses.
Emma said: "Getting out of the house is good. For six months we never went past the gate. We didn't go out for the one hour of exercise. There were a lot of people not sticking to the rules and that worried us.
"When we do go out now, it's when it's quiet."
While schools have now reopened, Emma has decided to keep Bobby at home to prevent him contracting coronavirus.
She also believes it would be too upsetting to tell children not to play with Bobby to maintain social distancing and protect him.
Emma said they have received excellent support from their friends and family, but feel the Government has "completely forgotten" about people who are still shielding.
And it could be some time yet before she feels it is safe for her and Bobby to return to normal life.
Emma said: "I personally think this will carry on for us until about March. When I have spoken to his consultants, they think it will be a bad winter.
"Maybe after winter and after flu season, I will think about going out.
"I even think at Christmas we will not be spending it with family. You never know though, some miracle might happen, but we have been hoping for that since March."