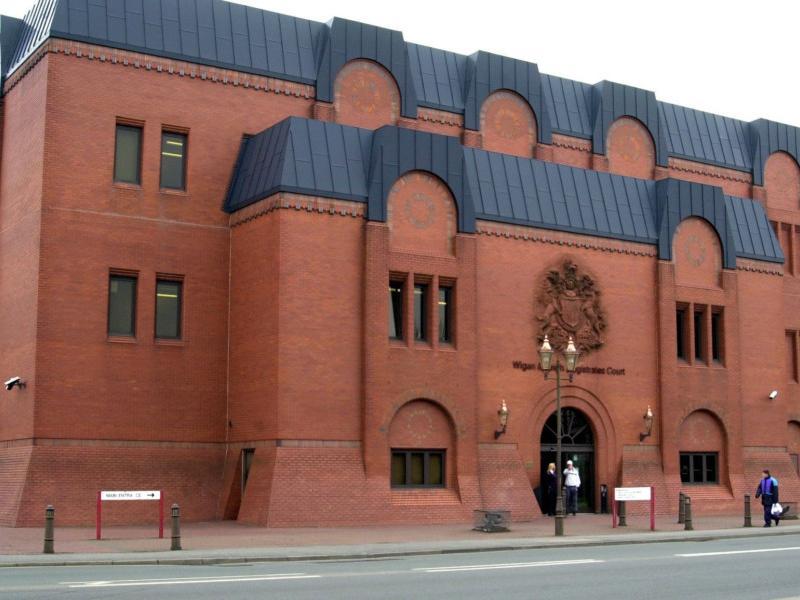 He was given a two-year order to work with the probation service.
He had previously pleaded guilty to harassment without violence and returned to the dock for sentencing.
The bench heard Rawlinson, of Delamere Way, sent around 685 text messages to Danielle Atkinson in the space of 11 weeks between January and March this year.
Wigan and Leigh Magistrates' Court
A minority of these messages included threats of violence against her and claims that he would come round and cause damage to her home.
Prosecuting, James Gore said Rawlinson had been in a long-term relationship with Ms Atkinson and it had been volatile.
Rawlinson also made a number of calls to her and the children's phones.
In one call, Mr Gore said, Rawlinson spoke of ending up in prison and told her he was "going to make it my life's work" before swearing as he told her he didn't care who got hurt in the process.
Mr Gore also told the court of the effect Rawlinson's campaign of harassment had on his victim.
He read out statements from Ms Atkinson in which she said she suffers from anxiety and "just wants it to stop".
The court was told there were 137 pages of text messages sent by Rawlinson.
Rawlinson, who was unrepresented in court, said he thought only around five per cent of the messages contained threats but added; "not that any of them should have been".
He told the bench: "I've been very stupid in my actions. The relationship was volatile in both parts.
"I've nothing to gain by carrying out my threats. I was upset that I had lost my family and things had gone the way they had.
"All I want to do now is support my children."