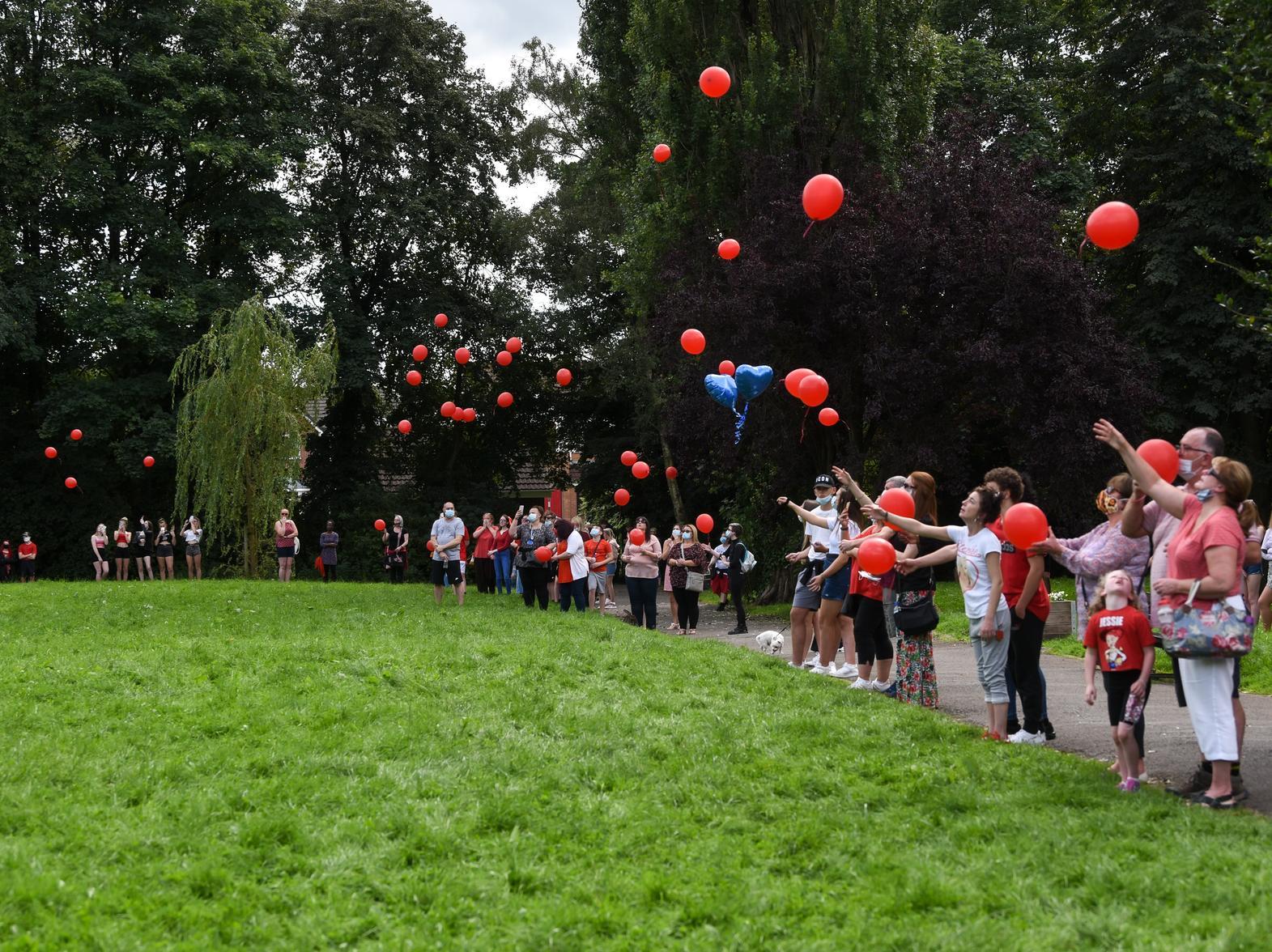 – If you need someone to talk to, The Samaritans can be contacted on 116 123. Alternatively you can email jo@samaritans.org.
The community has rallied around the family of 15-year-old Jack Parker, from Tyldesley, after his tragic death on July 28, raising more than £7,000 to support his grieving family and cover his funeral costs.
A special event also took place today at Astley Street Park (Friday August 7), with family and friends meeting to release red balloons – Jack's favourite colour – as a goodbye gesture to the Fred Longworth High School pupil.
Friends and family met at Astley Street park to remember Jack Parker
Following the devastating news of Jack's death, a fund-raiser was set up to support his family, and it quickly smashed its original £1,000 target. At the time of publication it had topped more than £6,900.
The Go Fund Me page was created Lindsay Hulse, whose son had been best friends with Jack since they met many years ago at Summerville Primary School in Salford, before Jack and his family relocated to the borough when he started high school.
Lindsay was "absolutely overwhelmed by how much has been raised".
She said: "Initially I just put £1,000, but it just kept going. I would like to say thank you to everyone who has donated so far. We all know how expensive funerals are, I just didn't want them to have that kind of pressure on them."
The late Jack Parker
On the fund-raising page, Lindsay went on: "Jack was a lovely kind caring and popular 15 year old boy.
"On Tuesday 28th July Jack's mum received the devastating news that no parent should ever have to receive that her son Jack had taken his own life."This news has absolutely devastated all who knew and love Jack.
"As a mum and as a parent, I cannot even imagine the pain and devastation this has had on Jack's lovely mum Karen, and all his loving family and friends.
"No mum or parent should ever have to worry about finances to give their son the send off he so deserves. I've set this up in hope that people will please donate to give Jack the lovely, funny, caring and kind big-hearted lad the send off he deserves."
Friends and family met at Astley Street park to remember Jack Parker
Jack, who is originally from Salford, was reported missing on July 28. A major police search was launched but sadly, his body was found the following day.
Officers revealed there were no suspicious circumstances surrounding his death. An inquest opened yesterday at Bolton Coroners Court but a date for the full hearing has not yet been confirmed.
Concerns had been raised about the number of people who would be attending, but Greater Manchester Police clarified that gatherings of more than 30 people were permitted if it was for a charitable, benevolent or philanthropic cause.
Friends and family met at Astley Street park to remember Jack Parker
In a statement online, the police said:"On Wednesday 05 August 2020 Greater Manchester Police became aware of a vigil that had been planned for today on Astley Street Park following the recent passing of 15 year old Jack Parker.
"The vigil had been planned prior to the recent COVID restrictions being imposed and comprised of a 15 minute service along with a balloon release and the playing of his favourite song. The circumstances of the event and the manner in which it had been organised ensured that the gathering, which exceeded 30 people, could go ahead as it complied with the following exemption:
A gathering of over 30 is permitted where:
•the gathering has been organised by a business, a charitable, benevolent or philanthropic institution, a public body, or a political body and:
•the person responsible for organising the gathering has carried out a risk assessment, and
•the gathering organiser has taken all reasonable measures to limit the risk of transmission of the coronavirus, taking into account the risk assessment.
Friends and family met at Astley Street park to remember Jack Parker
Representatives from the local area Policing team were present to ensure guidelines were adhered to and to show our support for the family, friends and others affected by the tragic circumstances surrounding Jack's death.
The service was sensitively conducted and went as planned without any issues. Our thoughts are with the family and circle of friends of Jack that have been affected by his passing."
Friends and family met at Astley Street park to remember Jack Parker
Friends and family met at Astley Street park to remember Jack Parker
Friends and family met at Astley Street park to remember Jack Parker
Friends and family met at Astley Street park to remember Jack Parker