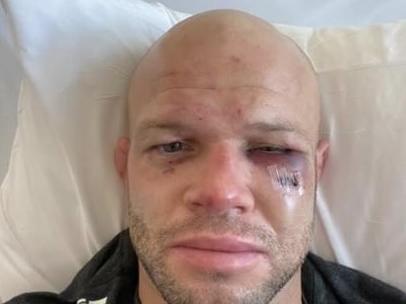 Mike Grundy
Mike Grundy suffered a decision loss to Movsar Evloev after an entertaining three-round featherweight contest.
The 33-year-old broke his jaw in the opening round but manfully carried on, showing his wrestling prowess on the canvas, before being edged out on the judges' scorecards.
Grundy's Team Kaobon colleague Tom Aspinall, however, produced the performance of the night – on his UFC debut.
The 27-year-old KO'd Jake 'The Prototype' Collier inside 45 seconds to underline his burgeoning credentials.
At the top of the bill, England's Darren Till lost his middleweight bout against former champion Rob Whittaker in a bloody five-round main event.
Whittaker was fighting for the first time since losing his belt to current champion Israel Adesanya in Melbourne last year and managed to secure a unanimous decision of 48-47 from the three judges.
Whittaker landed a pair of early jabs in the first round before the Liverpudlian responded with a left elbow to the chin which dropped the Australian.
But Whittaker responded in the second round, his big right hand knocking the Englishman down before he leaned in to use a clubbing elbow on the man on the canvas.
The third round was a close affair, with Whittaker failing on a takedown but managing to land a left hook on the break.
Till struggled to stay as quick on his feet during the final two rounds, with a highlight coming at the end of the fourth when a combination of punches snapped the Australian's head back.
Whittaker continued to target Till's lead leg and emerged victorious but not before a slicing elbow in the fifth round opened a huge gash on his head.
Afterwards, Whittaker told ESPN the fight "was so stressful".
He said: "Honestly, I hope the fans and everybody can appreciate it. Cause that level for me, that was one of the most technical fights I've ever had to fight."