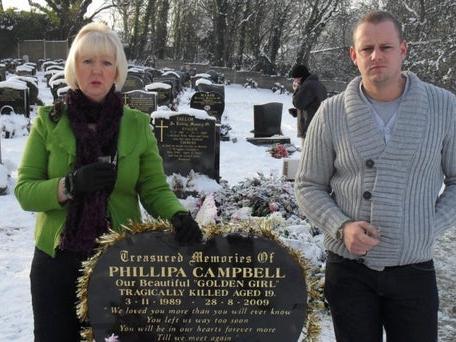 Phillipa Campbell's mum Sue and brother Lee at her grave
The Government has announced that legislation to introduce life sentences for killer drivers will finally be introduced to parliament next year.
That would be a long four-year wait for grieving families after a 2017 pledge from the Ministry of Justice.
These families include Wigan mum Sue Campbell and her family who were devastated when 19-year-old Phillipa Campbell was killed after a male friend drove her sports car at speeds of 80mph before crashing it.
Phillipa Campbell who was killed at the age of 19
The culprit was sentenced to five and a half years for causing her death by dangerous driving – but only ended up serving less than half.
Sue said the tragedy of losing her beautiful daughter has left the family hearbroken and her husband Robert on anti-depressants, feeling guilt at buying his daughter the sports car – even though she wasn't driving it when it crashed.
She backed The Johnston Press Drive For Justice campaign which was run across multiple papers across the group including the Lancashire Post, Blackpool Gazette and Wigan Post
The move by the government forms part of major sentencing reforms to be unveiled by the Lord Chancellor in a White paper this week.
Specifically, the measures around driving include plans to:
– Increase the maximum penalty for causing death by dangerous driving from 14 years to life
– Increase the maximum penalty for causing death by careless driving whilst under the influence of drink or drugs from 14 years to life
– Create a new offence of causing serious injury by careless driving.
Road safety campaigners, Brake, have long advocated for an overhaul of UK road law to deliver justice for victims and to help keep roads free from dangerous drivers.
Joshua Harris, director of campaigns for Brake said: "Crash victims have waited three long years for this announcement.
"Road crime is real crime and it is high-time that the Government, and the law, recognised this.
"Years of Government inaction have added to the suffering of road victims who have not been delivered the justice they, and their loved ones, deserve. The Government must now implement these tougher sentences as first priority, delivering on their overdue promise to road crash victims, and then urgently initiate a review of the flawed legal framework for road justice. Driving is a privilege not a right and yet our flawed legal system continues to allow convicted dangerous drivers on the roads where they can endanger others.
He added: "We all want safer roads but we will only achieve this if the law treats road crime with the seriousness it deserves."